Limeproof Undercoat Sealer (primer)
Regular price

$0.00

Sale price

$22.80
the best paint co ever!!!!!!
my beautiful stucco house, thanks to shpc!!! ive known you since i lived in Australia 2000-2003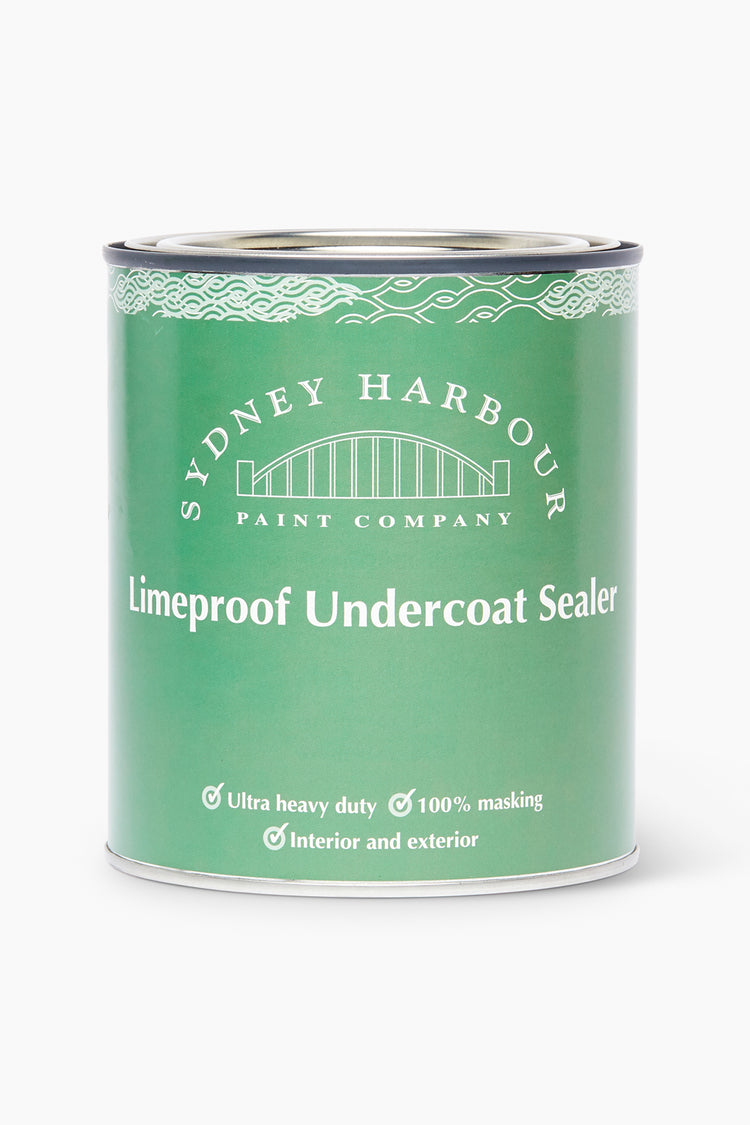 Product Details
This is our heavy duty alternative to our Base Coat Primer .  Sydney Harbour Base Coat Primer provides a suitable matte finish for the Interno/Lime Wash and Fresco over previously painted surfaces.
This water-based lime-proof undercoat sealer from Sydney Harbour Paint is a professional-grade primer for interior and exterior surfaces. It provides an ultra-matt finish and covers up to 450 sq. ft. per gallon. It can be applied to bare or previously painted surfaces. Apply this primer for excellent results and lasting protection.
Our Lime Proof Undercoat sealer is best used on technically challenging surfaces that require an impervious seal over the substrate.  If the substrate is in fine condition, such as previously painted surfaces, our Base Coat Primer can be used.
APPLICATION:
Click here to view full Limeproof Undercoat Sealer primer specifications
1. Exterior Lime Wash

Exterior Lime Wash creates a soft weathered patina reminiscent of the wonderful finishes on the buildings of Tuscany, Portofino and other regions throughout the Mediterranean.

All Natural
Slaked and aged lime.
No mixing required.
Pre-tinted.
Easy to apply.
Exterior use.

Apply directly over raw stucco, raw brick, raw stone and raw concrete. Unique formulation allows the lime to gently 'bloom" through the paintHygienic properties and acts as a mild fungicide due to its high PH

Covers approx 350 to 400 sq. ft. per gallon

APPLICATION: 
2. Interno Lime Wash

Interno Lime Wash is a unique lime based coating which is designed for interior use, and replicates the soft weathered patina of a traditional lime wash.

All Natural
Slaked and aged lime
No mixing required
Pre-tinted
Easy to apply
Interior use

Unique formulation allows the lime to gently 'bloom" through the paintHygienic properties and acts as a mild fungicide due to its high PH

Covers approx. 350 to 400 sq. ft. per gallon

APPLICATION:
1. Paints

2. Wallpaper

4. Specialty Finishes

4. Accessories